When you need to enter Parliament in a wheelchair, there's only one entrance with a ramp, at door 9, a good four minute trip (with the assistance of helpers) to the Lok Sabha. This temporary disability has taught me how poorly equipped we are to support people with disabilities.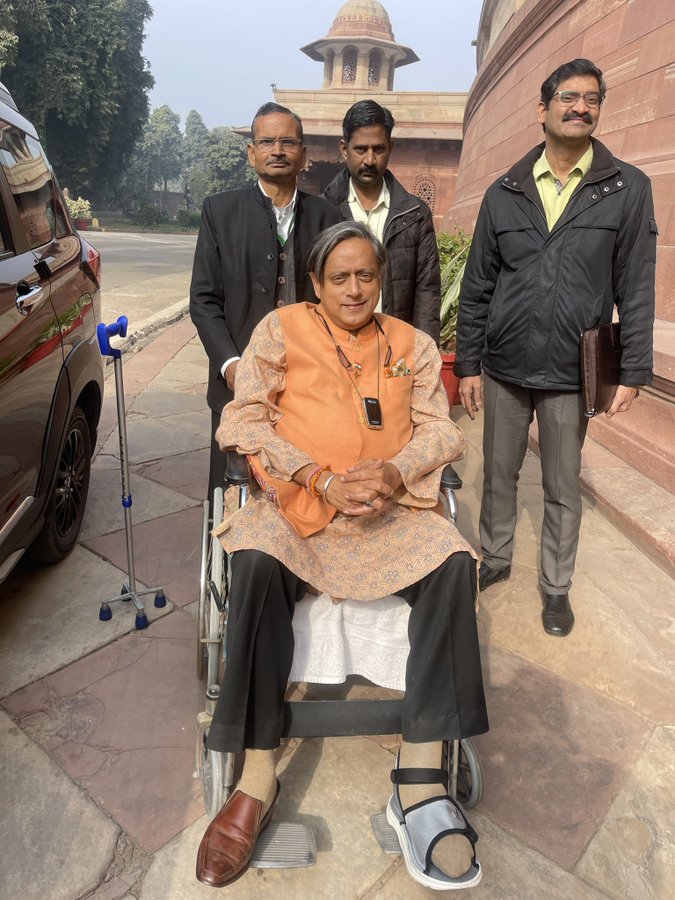 Dear Mr Tharoor,
Greetings! Hope you are on a speedy path to recovery and will be rid of your temporary disability very soon.
You are an exciting public figure with a rather large following on social media. Not unexpectedly, your tweet has gather around 27,000 likes and about 2500 comments in no time. 'Not too bad' a figure as a typical Yorkshire man would say. Knowing what usually happens on social media, there are troll artists ranting 'for' and 'against' your cryptic but inoffensive views posted along with.
The tweet has made your genuine well-wishers and fan-club members concerned about your health. At the same time, it has given the right wing crowd the opportunity to justify the construction of the Central Vista project. Some others have also commented about your privileged position regarding the luxury of having three assistants to help you through. A few cynics have not missed out on your 4 minute ordeal to reach Gate no 9. All in all, a slugfest indeed.
I am sure you must be loving going through the varied responses to your seemingly innocent tweet. Your empathetic thoughts are however probably grazing the tip of the iceberg. You have been a world traveller all your life. I am sure the stark differential in facilities for the specially-abled has been visible to you all along. Understandably, it is only on such unfortunate occasions as you are currently going through, that the penny really sinks.
With a fair degree of confidence, I can venture to say that even today, you would not have probably realized the traumatic experiences many of our physically-challenged friends go through on a daily basis. The same is true for most of us able-bodied people who don't really know where exactly the shoe is pinching. The bottom-line is that as a nation, we are just not sensitive about the hopes, fears and needs of our special friends.
I have been a witness to someone very close who fought with her disability during her entire lifetime. Her greater fight was always however with the insensitive authorities about the rights of the disabled. It took her twenty years of protracted correspondence to get an additional rail on the staircase, a toilet on the ground floor and a slide entry to her bank premises. She would often reiterate that we don't want sympathy and undue privileges. We just want our existence to be acknowledged for what we are.
Coming back to your tweet, I would invite you to a bout of self-reflection. What was the real intent behind the effort of putting your photograph along with that message? Was it to show the public that how conscientious a public figure you are? Someone who is attending the Parliament in spite of a serious injury. Could be. Or was it to seek sympathy? Probably not.
Was it to use the opportunity to project yourself as a sensitive politician? Maybe. A cheeky guy has also suggested that it could be a ploy to miss the BJ yatra. Or was it just another gimmick to stay in the news  and the public eye which is an existential requirement for many of us? You know best. Well it could actually be a mix of all of these although at that moment you did not probably delve sufficiently deep into your conscience to establish your driver. If it was the last of the proffered options, you quite succeeded, I must say.
Having said that, I sincerely want you to prove me wrong. And that can only happen if here onwards, you were to champion the cause of the physically challenged in every possible forum. Otherwise, you will remain to me just one more opportunistic 'also ran' politician who just wants to remain in the spotlight and nothing beyond.
I hope you won't squander this wonderful opportunity that your unplanned injury has offered you to make a real difference. You are known worldwide for being very well versed with the English language. So I am sure that you could not have missed out the very old idiom, "Put your money where your mouth is". Sounds 'attacky' but all it means is "to show by your actions and not just your words that you support or believe in something".
A well-wisher
Horax (Casper)
Postscript: Not a bad suggestion for a New Year Resolution?
First published at seekmediation.com on 22/12/22
Pl share thoughts with us at contact at seekmediation.com or Whattsapp on +91 9483513585